w3c
w3c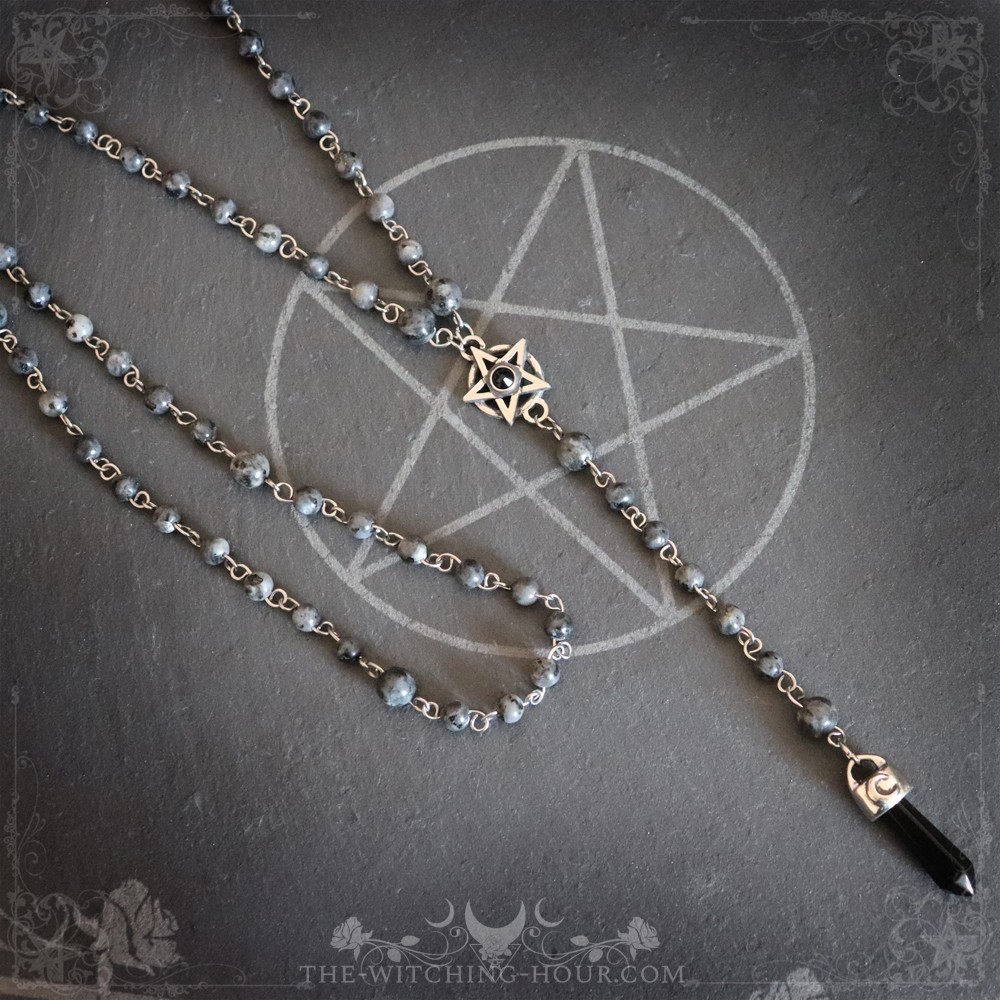 Pentagram rosary in larvikite
This natural larvikite rosary is adorned with a pentacle and ends on a small onyx tip. The larvikite is an intensely spiritual stone which can be used within the framework of the magic and the work of the psychic capacities, it also helps to protect itself from negative energies.
Handcrafted
97% pure pewter, hypoallergenic
Natural larvikite and onyx
Beads mounted on stainless steel rods for a perfect longevity of your rosary
Length of the rosary: 56 cm
Secured payment
with bank card or Amazon Pay
Shipping from 2,50 euros on jewelry
(edit with the Customer Reassurance module)
Easy return
If you change your mind, you have 14 days to return your package (see conditions)
Pentagram rosary in larvikite
This rosary is an original creation of our brand
It was made by hand in our small French workshop
The stones are natural and can be used during your magical practices, during your meditation or simply to benefit from their properties in your daily life
This rosary will be delivered in a nice velvet pouch
Larvikite in lithotherapy
Larvikite is a gray iridescent stone from Norway, which is why it is sometimes called "Norwegian moonstone". This pretty and rather discreet stone is nevertheless very powerful on the esoteric level. It stimulates psychic abilities such as clairvoyance, intuition or mediumnity, and thus helps to see beyond appearances. Very useful for remembering past lives, especially when accompanied by black onyx, it will help in understanding the extent of the soul's experiences.
As an anchor stone, it helps to maintain harmony between body and soul. Larvikite is also a stone known to repel negative energies, including those of people who would seek to harm through magick, but also entities such as larvae that attach themselves to the person's aura.
The pentagram symbolism
The pentagram is a five-pointed star surrounded by a circle. Each of its branches symbolizes the union of the natural elements (water, earth, air, fire) and the spirit within the great whole of the universe symbolized by the circle. The pentacle is often considered a symbol of protection by the neo-pagan community.

Data sheet
Compositions

Fine pewter, Stainless steel, Larvikite, Onyx

Styles

Pagan, Witchy, Esoteric

Gemstone

Larvikite, Onyx
No reviews at this time.
Pentagram rosary in larvikite
(

62

EUR

)
Customers who bought this product also bought: