Purple labradorite pendant
This beautiful purple labradorite pendant is adorned with pewter leaves and arabesques embracing the stone with delicacy. This pendant is a unique item, made from a superb labradorite offering intense reflections combining violet, pink and orange.
- Natural labradorite
- High quality pewter, 97% pur and hypoallergenic
- Unique item totally handmade
- Size of the pendant: 4,2 x 3,4 cm
- Stainless steel chain of 46 cm / 17" (hypoallergenic)
Secured payment
Bank card - Amazon Pay - Bank transfer
Orders shipped within 72h, shipping cost starts at 2.50 euros
Depending of the country
Free shipping on orders over 150 euros
*Except for retailers
Handmade creation

Purple labradorite pendant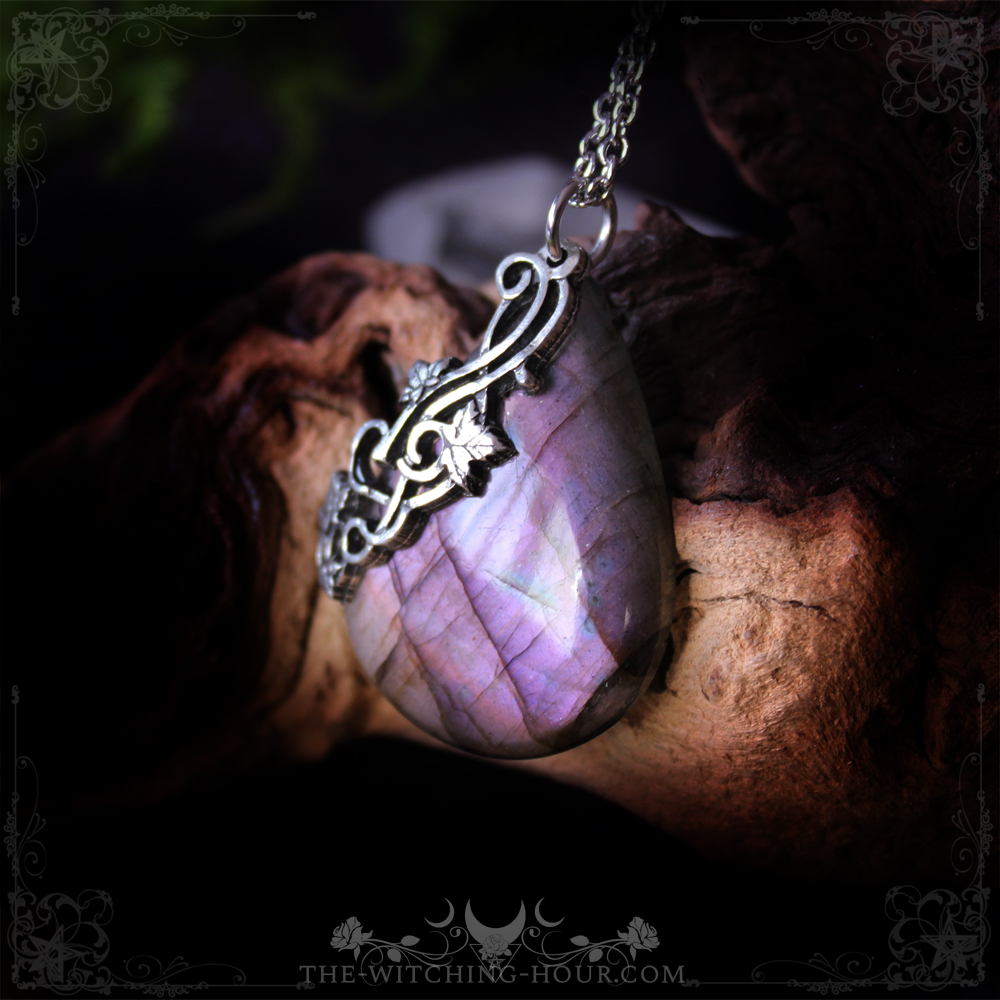 This pendant is an original creation of The Witching Hour
It was designed and totally handmade from the shape of the stone, to create you a unique jewellry.
Purple labradorites are among the most difficult to find, rarer than other colors, they are often more expensive and sometimes tinted. The labradorite of this pendant is 100% natural, it has not has not been treated except for pruning and polishing.

Labradorite
Labradorite is a protective stone. It raises consciousness and brings into contact with the universal energies, while discarding the undesirable energies of the aura. It is considered the stone of esoteric knowledge because it would facilitate the learning and understanding of the occult arts. It is also a valuable help in developing intuition and parapsychial abilities.
Psychologically, it helps to fight against the fears and psychological residues of disappointments encountered in the past. It also stimulates the imagination.

          
We only use high quality pewter to create the jewelry of our brand. This pewter is pure at 97% and in accordance with European standards (lead, nickel, cadmium, mercury and antimony free).The chain is in stainless steel. All these metals are hypoallergenic.
The pewter alloy we use is the finest, its purity allows it to be used to make dishes. It does not require any specific maintenance and is made to last many years.
Data sheet
Compositions

Labradorite, pewter, Stainless steel

Styles

Pagan, Witchy

Hauteur

4,2 cm

Largeur

3,4 cm

Length of the chain

46 cm / 17"

Gemstone

Purple labradorite

How to take care of your jewelry

Avoid wetting it regularly to not alter the grey patina. Remove it for exercise and sleep.
Average votes

5.0 / 5

1 advices

Why review our products?

You help other people in their purchases by sharing your experience and you let us know if you like your items!
un bonheur pour les yeux
Ce pendentif avec une labradorite violette est de toute beauté, je ne me lasse pas de le contempler ???? je suis ravie de mon achat!! Et la communication avec Emmanuelle est un vrai bonheur, rapide, sympa et efficace !
This review has been posted for
Purple labradorite pendant
Purple labradorite pendant
(

89

EUR

)
5.0

/

5

-

1

ratings -

1

advices
16 other products in the same category: