The Witching Hour
Crafter creator of magic since 2012
The Witching Hour is the story of a passion, for creation and crafts of course, but also for esotericism, nature and spirituality.
This is why all our creations are inspired by occultism and its various practices, paganism, of nature and the seasons,
but also of a gothic and dreamlike universe to help you put a little dream and magic in your daily life.

Behind the doors of the studio
Everything always starts with a drawing, an idea scribbled on the corner of a page following a sudden inspiration.
This quick sketch is then coated on millimetre paper to define the exact dimensions of the future jewel, the most suitable location for stones or rings, all harmoniously and judiciously, since these elements will influence how the jewel will be held when it is worn.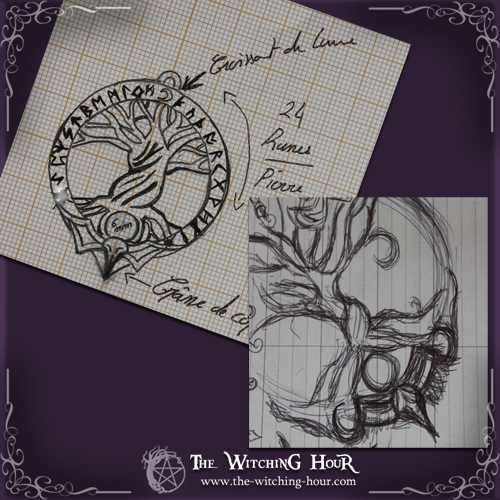 This drawing with rigorous dimensions will allow to create a 3D sculpture, the exact replica of the future jewel that will allow the creation of a mold through which the pewter can be cast.
Then there is a whole process to bring its shiny finish and black reliefs to the jewel. Only then the stones, rings and chains will be added.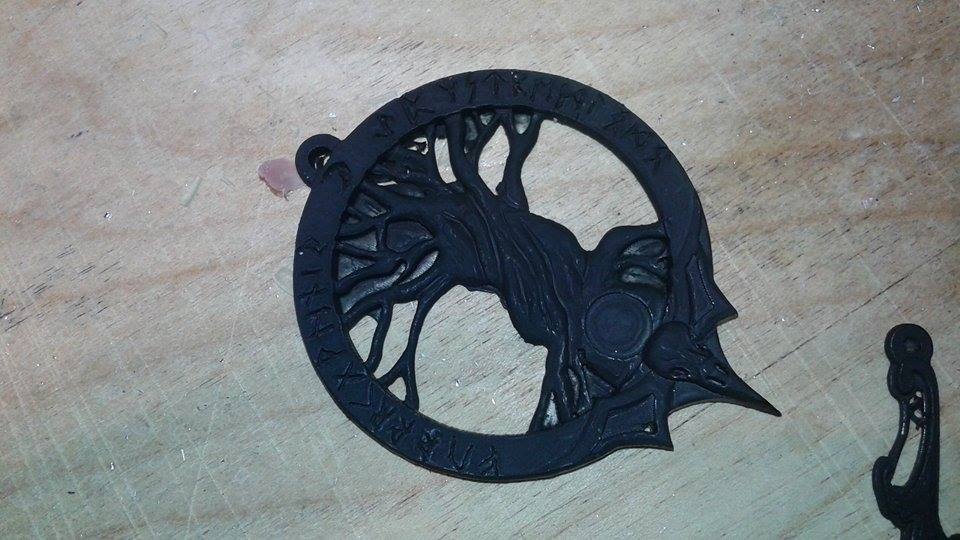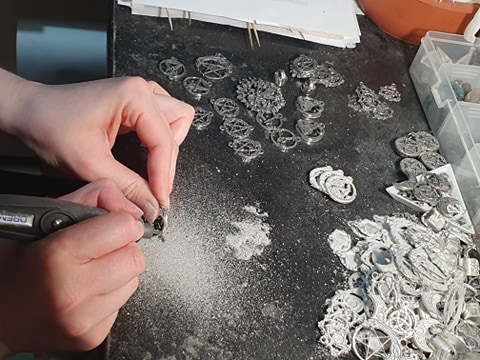 Every jewelry is totally handmade from the best materials. This is why we use a 97% pure pewter alloy, corresponding to European standards, and which does not contain any substances potentially dangerous for your health.
This pewter also has the particularity of being hypoallergenic, which means that the risks of being allergic to it are extremely low.
At The Witching Hour, we are uncompromising about quality, because not only do we respect French and European standards, but we go even further by offering you only creations made in a pewter 97% pure. This pewter is designed to be used for making dishes, so in other words it is so healthy that you can eat on it!
It does not contain lead, nickel, cadmium, mercury or antimony, which are dangerous substances that can sometimes be found in low-quality metal alloys.
As our commitment to animal protection is very important, we make it a point of honour not to use products of animal origin, such as leather, fur or natural feathers.
Regarding the esoteric material and decoration
All the esoteric material and decorative objects are made in our small French workshop.
The Ouija boards, the wheels of the year and the wooden divinatory tables are cut, engraved, painted and varnished by us. The coasters, slate objects and boxes are purchased in the required size and are engraved, painted and varnished by us.

Do you like stones? So do we!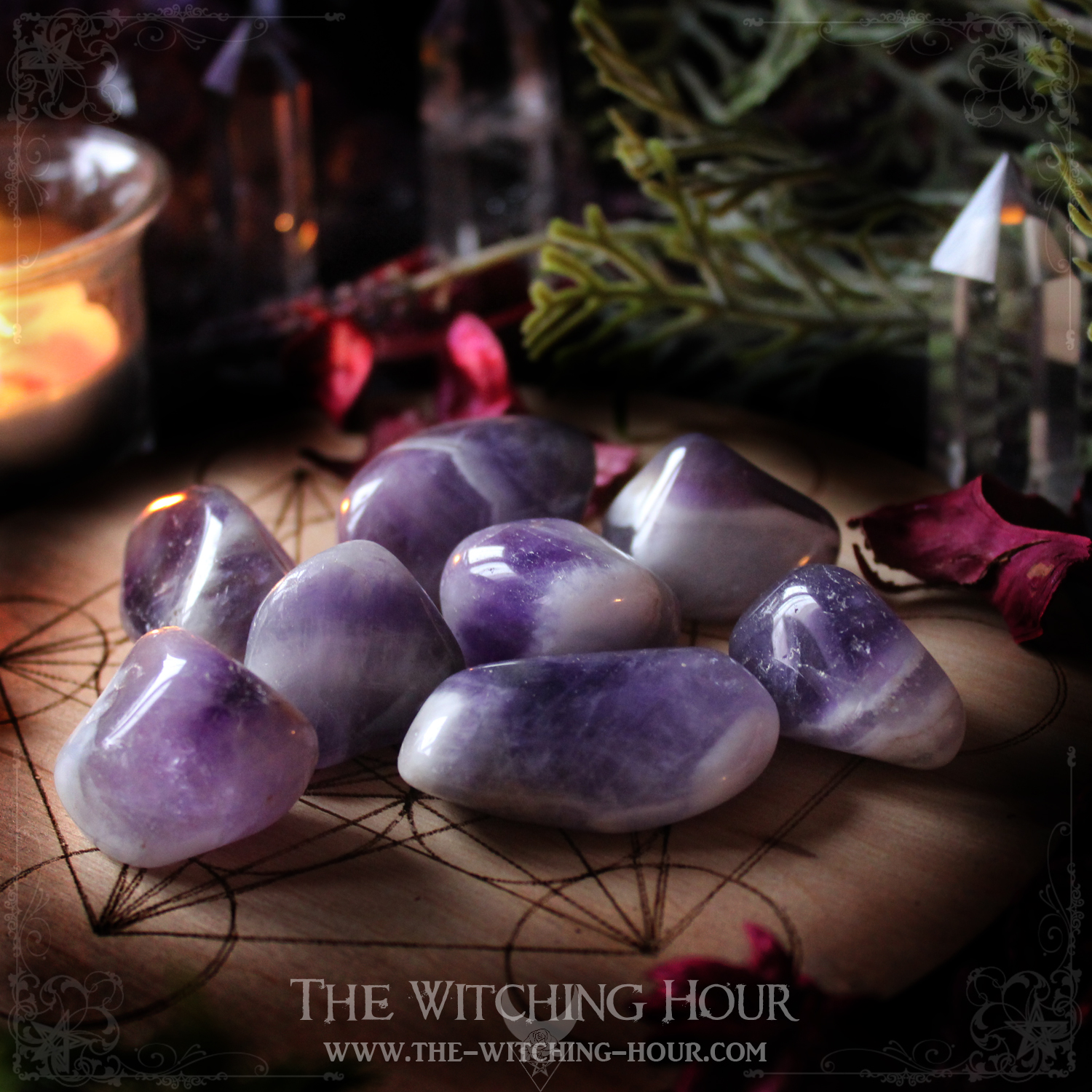 The stones that are used to adorn your jewelry are usually natural and untreated (except from cutting and polishing).
Although this happens very rarely, we always specify on the products concerned page if the stones used are manufactured in the laboratory.
The search for quality natural stones is a big part of our work because it is not always easy to find reliable suppliers. Many synthetic stones circulate and there are many unscrupulous sellers who make them look like natural stones.
That's where our knowledge comes in! Melliarine, creator of The Witching Hour, began studying lithotherapy in 2008 and has since expanded her learning to mineralogy to learn how crystals form.
All this combined with her personal use of minerals since all these years, allows her to recognize synthetic stones for the majority of minerals.
Thanks to her knowledge, Melliarine carefully selects the stones used for the creations of The Witching Hour, favoring as much as possible the minerals of grade AAA (the purest).
As for runes, Melliarine also selects stones of excellent quality, slightly larger than those found in rune sets manufactured industrially and/ or in Asia, and that can be found almost everywhere in esoteric shops. The reason for this slightly above average size is very simple: it makes them much more enjoyable to work with!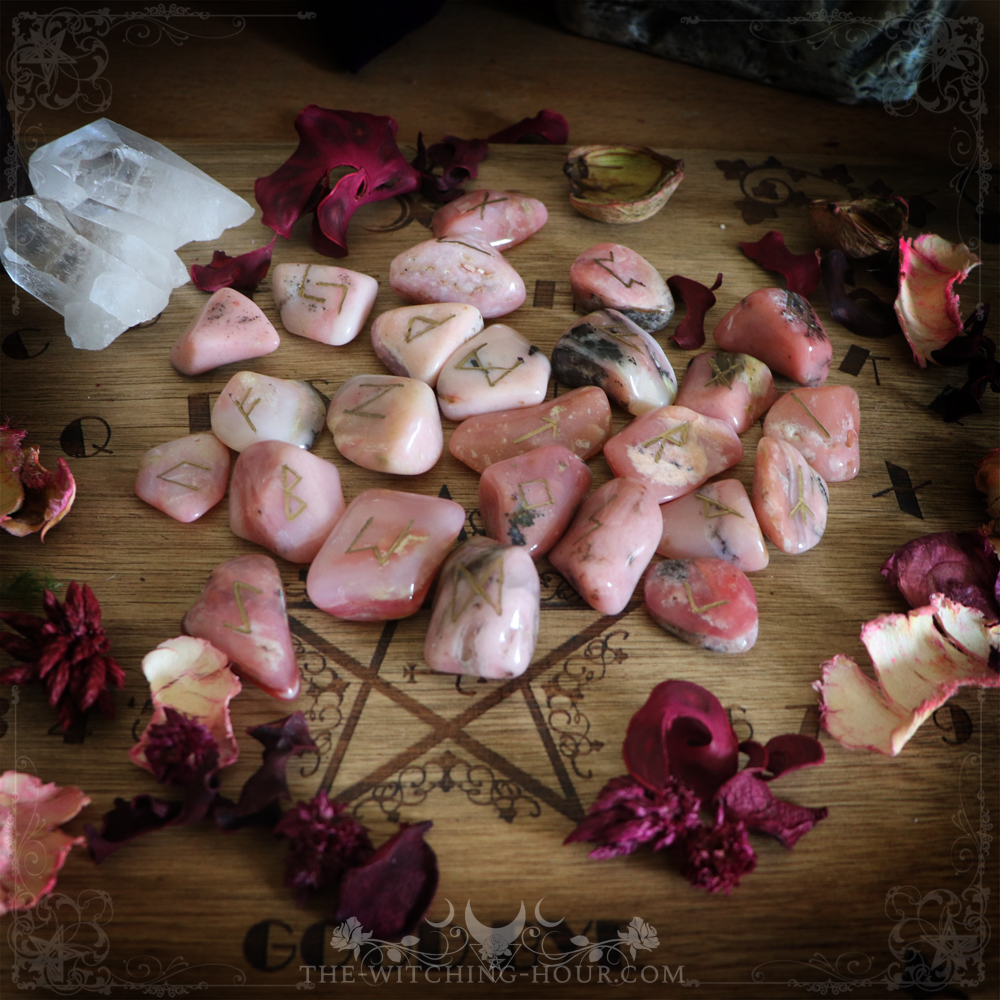 The resin jewelry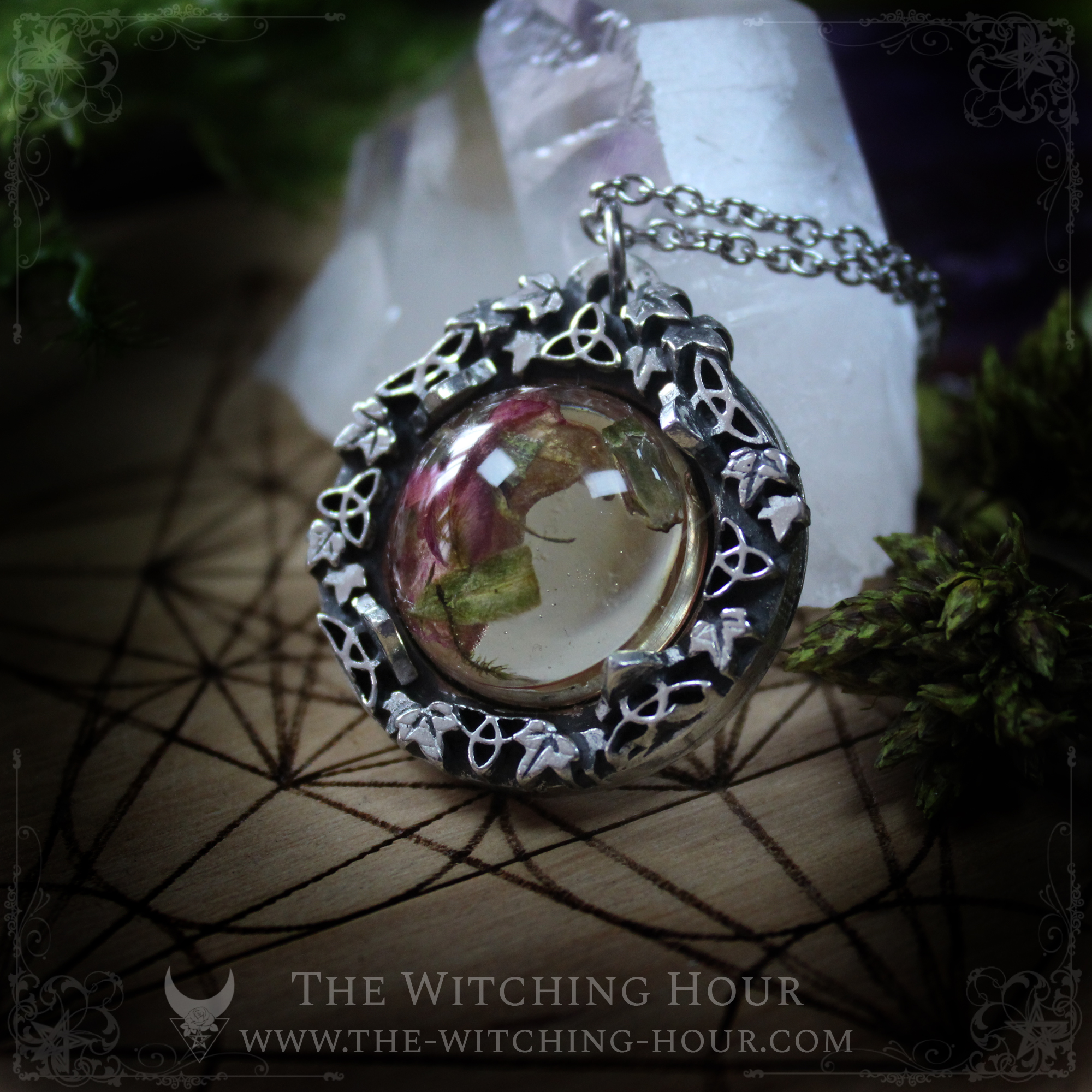 We always use a biorganic resin for the manufacture of pendulums and resin cabochons.
This biosourced resin is more respectful of man and the environment thanks to its manufacture from biological materials.

Who is behind The Witching Hour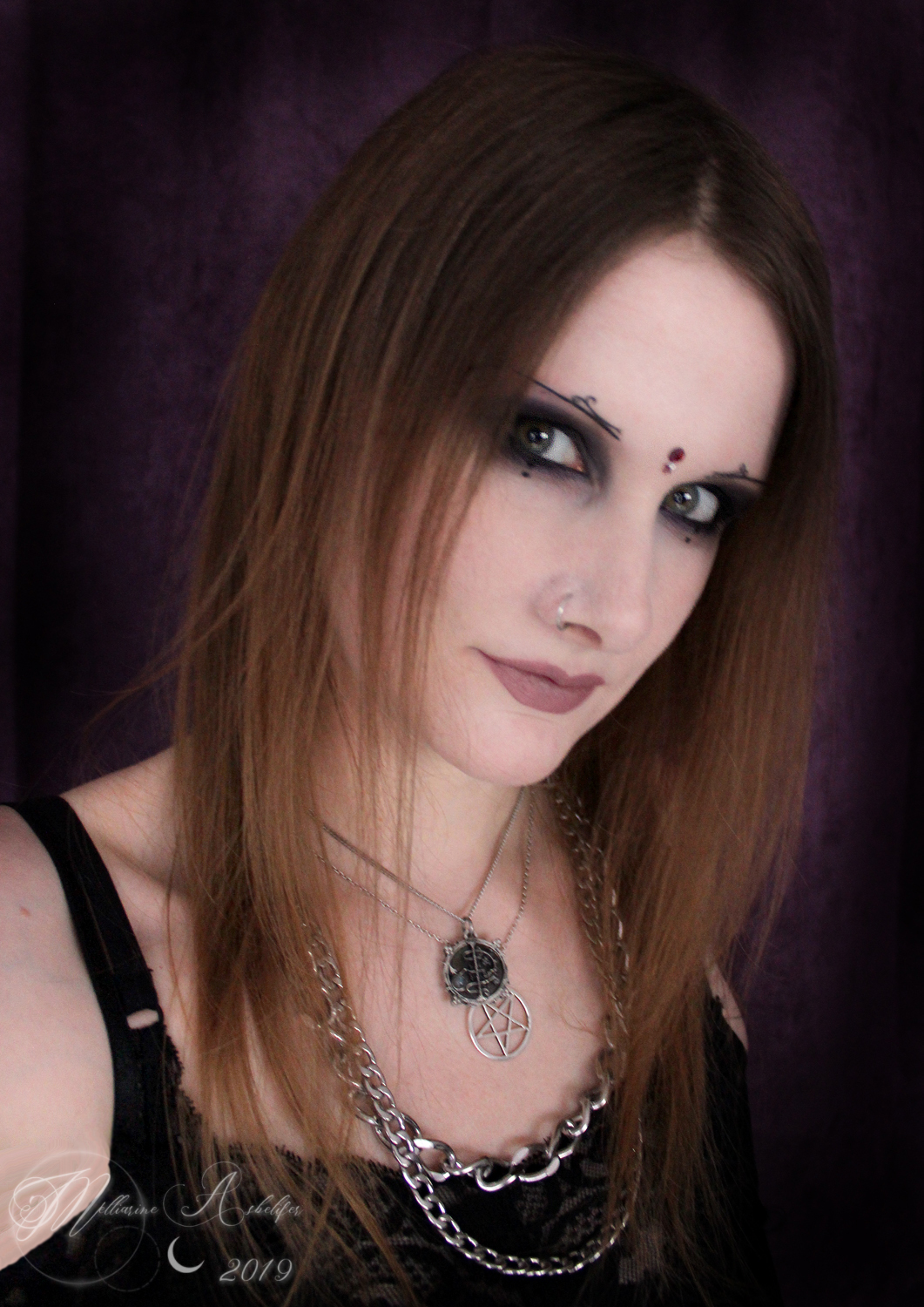 Melliarine
Melliarine is the creator of the brand The Witching Hour and of all the creations available on the shop.
As a true multitasker, she manages the website, the making of creations, and all the management work of the company.
Passionate of esotericism and a great lover of nature and animals, she draws inspiration from her esoteric practices, walks in nature and the work of the artists she loves.
In March 2012, she decided to create The Witching Hour in order to live her passions for creation and esotericism.
The name The Witching Hour was chosen in large part for its symbolism, but also as a tribute to the novel of the same name, written by Anne Rice, of whom Melliarine is a big fan.