Celtic pendant "Dana's whispers"
This pendant, inspired by Celtic mythology, holds in its leaves a large natural stone, treasure of nature evoking the magic of the Mother Goddess Dana.
- High quality pewter pure at 97% (hypoallergenic)
- Totally handmade
- Natural gemstone that you can choose via the drop down menu
- Stainless steel chain of 46 or 60 cm (17" or 24"), hypoallergenic
- Size of the pendant: 3,2 x 3,5 cm
Secured payment
Bank card - Amazon Pay - Bank transfer
Shipping with tracking number from 2,50 euros
*Available only on jewelry for Canada, USA and Europe, not available for retailers
Satisfaction guaranteed
If you don't like your item, you have 14 days to return it to us (see conditions)
Handmade creation

Celtic pendant
"Dana's whispers"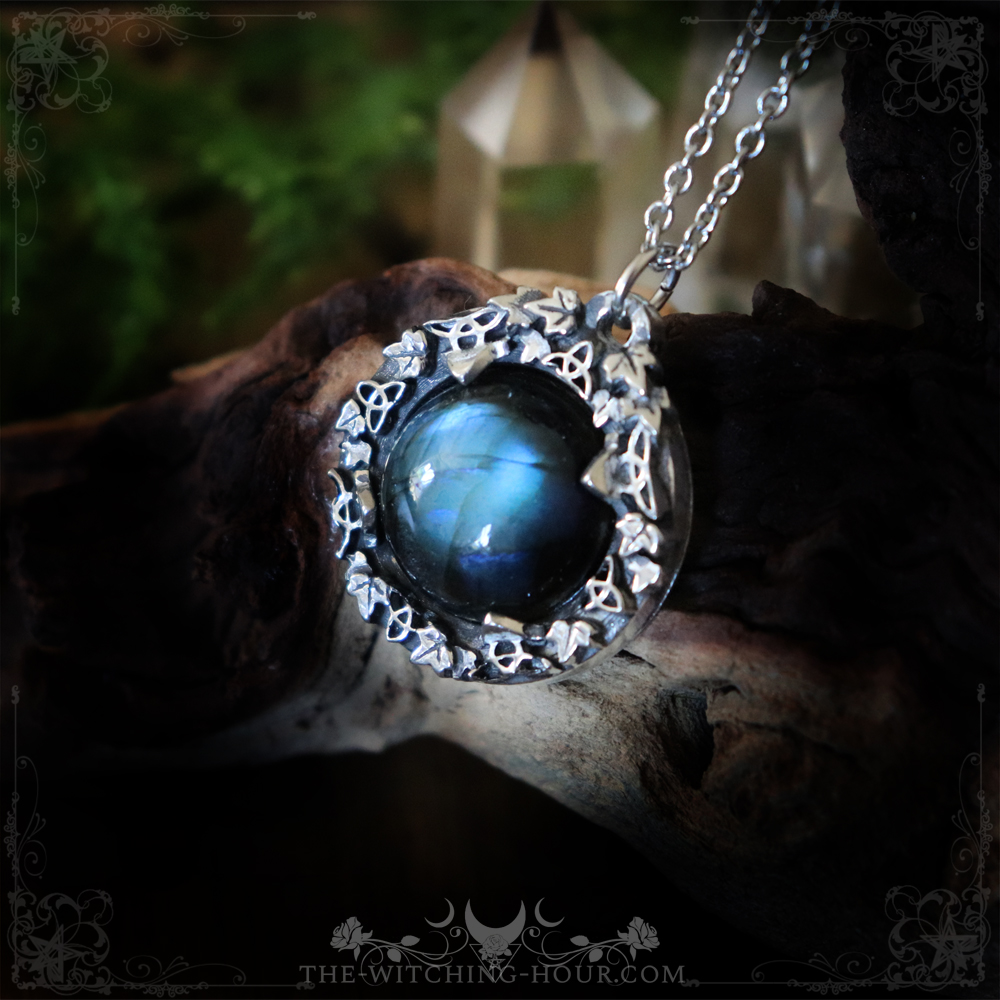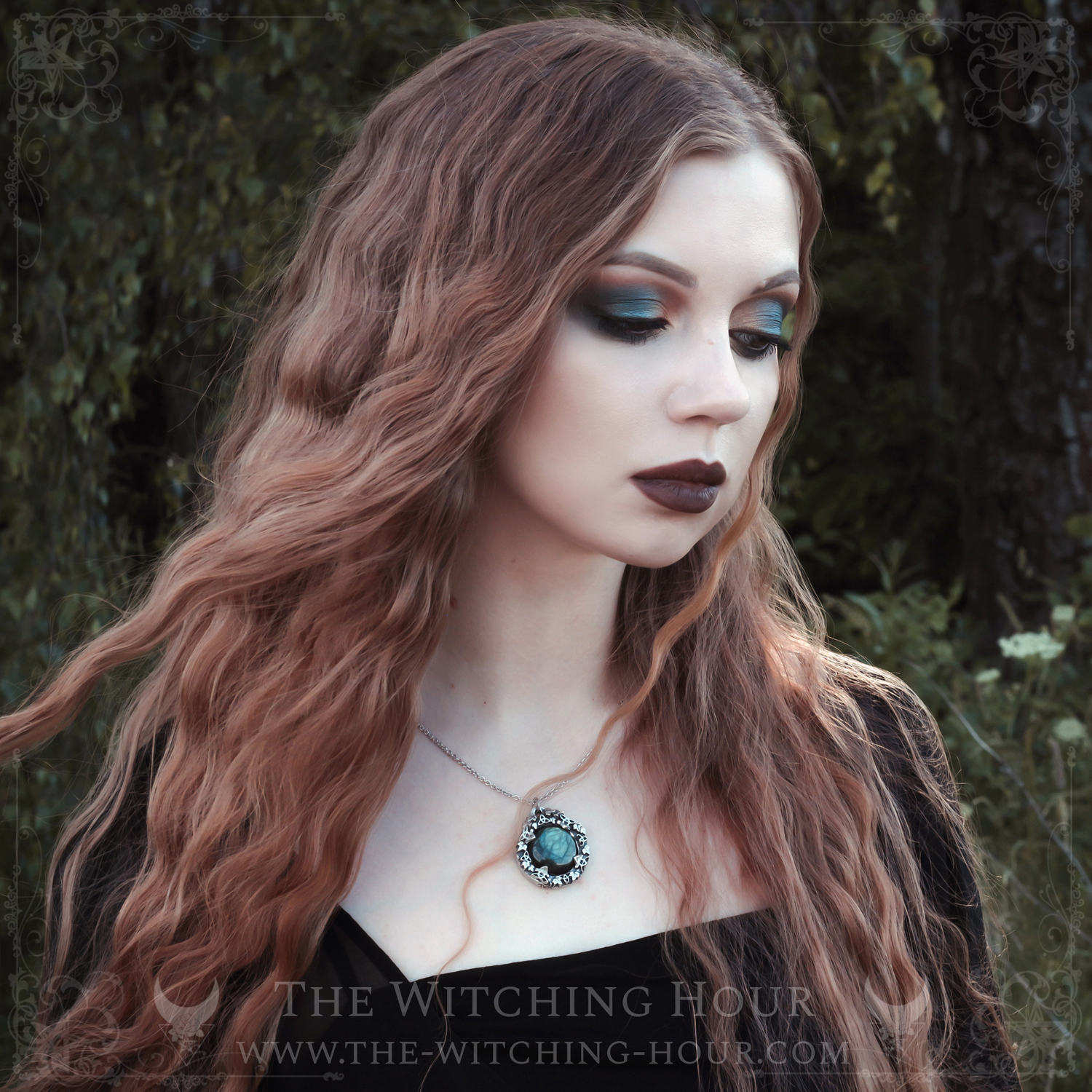 This pendant is an original creation of The Witching Hour
It is designed and handmade in our small french studio from high quality material
This pendant is decorated with carefully selected natural stones for their quality and colors.Each stone is unique, so you will receive the one you selected via the drop-down menu.

To choose your stone
Labradorite is a grey stone with colored reflects. These reflects can be green, golden, orange, multicolor, blue or purple. But most of the time, the size of the stone use on this pendant, will have green, golden or blue reflects.
Labradorite is known as the stone of the esoteric knowledge and is good to help with psychic abilities. The labradorite is also known as a protective stone that will stop negative vibes from other people.
Purple fluorite helps to balance the third eye chakra and to be more concentrate during meditation. It neutralises stress and negative energy. It also increases self-confidence.
Amber is a fossilised tree resin. Its red / orange color stimulates the intellect and increases self-confidence. It encourages decision-making, spontaneity, wisdom and patience.
Green onyx is a stone linked to the heart chakra, fostering true and unconditional love, compassion and harmony. Psychologically, it encourages letting go and help to stay brave through the difficulties.

Our quality policy
We only use high quality pewter to create the jewelry of our brand. This pewter is pure at 97% and in accordance with European standards (lead, nickel, cadmium, mercury and antimony free). The chain is in stainless steel and titanium jumprings.
All these metals are hypoallergenic.
The pewter alloy we use is the finest, its purity allows it to be used to make dishes. It does not require any specific maintenance and is made to last.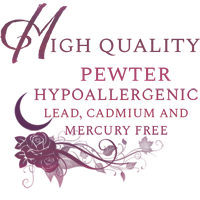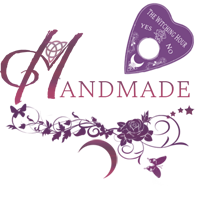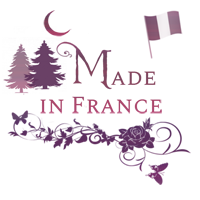 Data sheet
Compositions

Fine pewter

Styles

Pagan, Celtic

Diameter

3,2 cm

How to take care of your jewelry

Avoid wetting it regularly to not alter the grey patina. Remove it for exercise and sleep.
Average votes

5.0 / 5

1 advices

Why review our products?

You help other people in their purchases by sharing your experience and you let us know if you like your items!
verified_user
Verified Purchase
La pierre et le design sont magnifiques, comme toujours !
This review has been posted for
Celtic pendant "Dana's whispers"
This customer has posted a review for his order of 2021-07-09.
Celtic pendant "Dana's whispers"
(

57

EUR

)
5.0

/

5

-

1

ratings -

1

advices
16 other products in the same category: