w3c
w3c
Amethyste druse
Delivery time from 10 to 30 business days, depending of the destination
Amethyst is a beautiful stone whose hue can range from parma to dark purple. In druse, it is presented in its most natural form and can decorate your home as well as serve you in your occult and spiritual practices.
It is a spiritual working stone and is also very useful during meditation and divination.
The weight of each amethyst druse is 100 - 150 grams
Sold individually
Secured payment
with bank card or Amazon Pay
Shipping from 2,50 euros on jewelry
(edit with the Customer Reassurance module)
Easy return
If you change your mind, you have 14 days to return your package (see conditions)

Natural amethyst druse
*All the following information is given for information purposes only and can't be a substitute for treatment or medical consultation.
For spirituality

Amethyst has a high spiritual energy and promotes higher states of consciousness, as well as meditation.

For psychic abilities

Amethyst protects from psychic attack, develops intuition, clairvoyance and premonitions. Placed near the bed, it favors dreams and helps to remember them. Attention however, in rare persons it causes nightmares, in this case it will be necessary to move away the stone during the sleep.

For the mind

Soothing stone, it helps to find serenity or on the contrary, stimulates the mind, according to the needs. It is a good companion when it is important to stay focused and in control. It favors decision making, and reduces fear and anxiety.

In your home

An amethyst druse will bring a gentle spiritual and calming energy to the room where it is placed.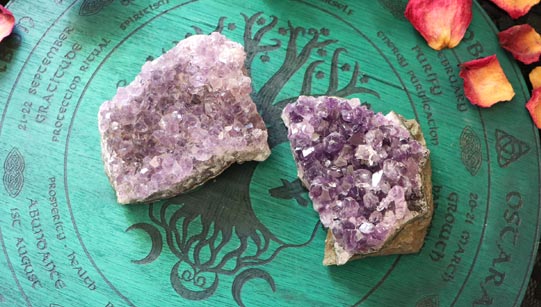 Purification
You can use water or frankincense. Avoid salt and salted water, which can damage the stones.
Specifications
Natural amethyst
Weight: 100 - 150 grammes
Sold individually
Data sheet
Poids

100 - 150 gr

Gemstone

Natural amethyst
1 other product in the same category:
Stay ahead of fashion trends with our new selection.