Pentagram necklace "Yules's Moon"
This elven style necklace is surmounted with a pentagram and many rainbow moonstone cabochons. Its design is inspired by Yule's sabbat and refer to the light of the moon, the night and winter frost.
- High quality pewter, 97% pure and hypoallergenic
- Totally handmade
- Natural rainbow moonstone
- Synthetic rock crystal point
- Adjustable stainless steel chain
- Size: 5 x 10 cm
Secured payment
Orders shipped within 72h, shipping cost starts at 3.50 euros

Handmade creation
Free shipping on orders over 150 euros
*Except for retailers

Elven pentagram necklace
"Yule's Moon"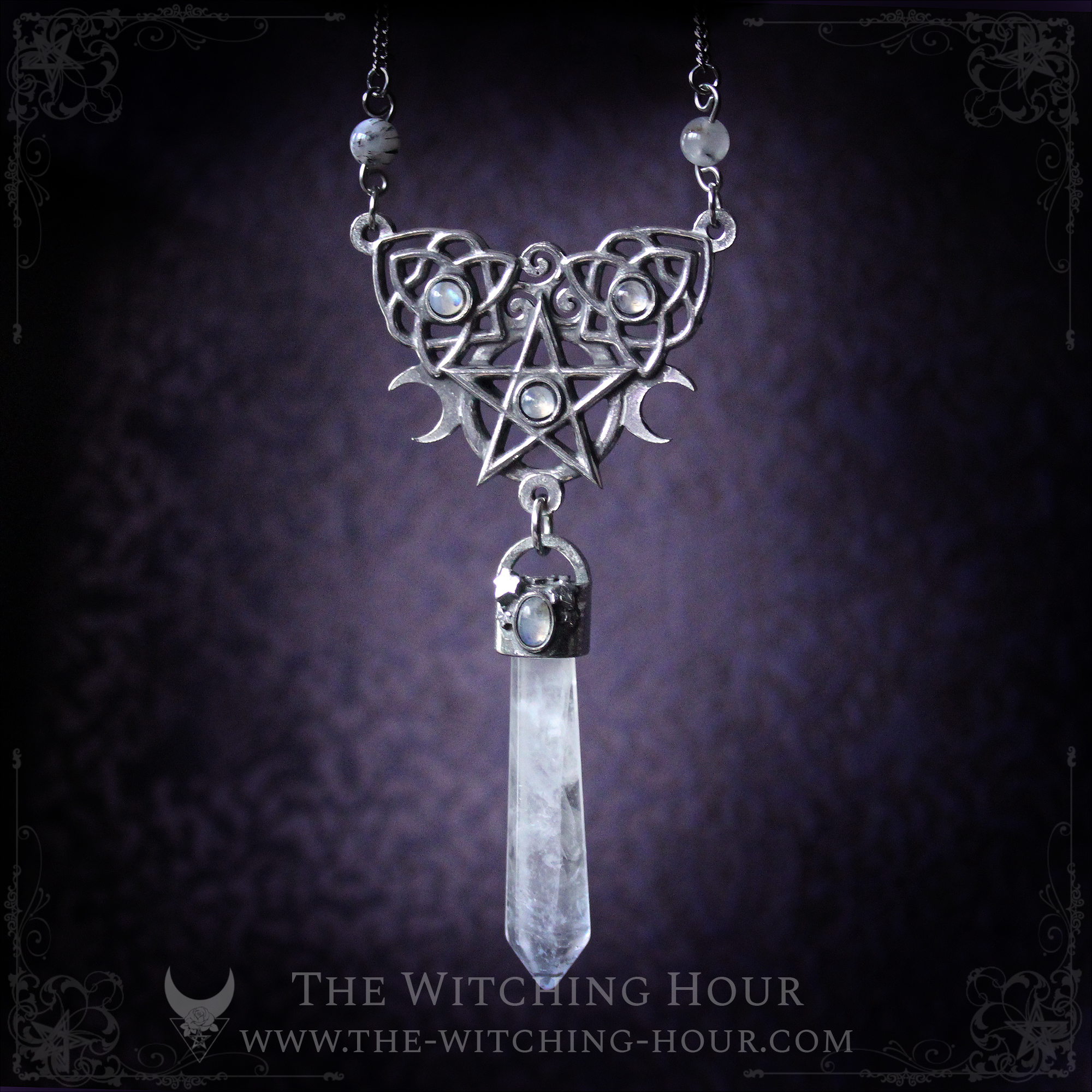 This necklace is an original creation made by The Witching Hour
It was designed and crafted by hand in our small French workshop.
The soul of this pendant
Yule, the Sabbath of the winter solstice, symbolises the night which gradually gives way to the regenerative light of the sun, offering nature the opportunity to emerge from its winter sleep and be reborn. This necklace is inspired by this Sabbath by offering frost-white stones, evoking the cold of winter and the purity of snow.
Moonstones also refer to the moon, and therefore, by extension, to the night. The pentagram placed in the centre evokes the occult, magic and spirituality.

The rainbow moonstone
Rainbow moonstone is a white labradorite with bluish or multicoloured reflections. As protective and spiritual stone, it helps to work on extrasensory abilities, especially perceptiveness and intuition. Because of its colour, it is strongly connected to the moon and spirituality.
The pentagram
The pentagram is a 5-pointed star symbolising the union of the spirit with the natural elements (water, earth, air and fire). Although its use has crossed the centuries and different beliefs, it is essentially linked to paganism and is considered a symbol of protection.

Our quality commitment
All our creations are made of high quality pewter, 97% pure and corresponding to European standards (lead, nickel, mercury, cadmium and antimony free). The chain is made of stainless steel and the rings are made of titanium. All these metals are hypoallergenic.
The pewter alloy we use is the finest tin alloy available, its purity allows it to be used in the manufacture of crockery. This pewter alloy does not require any specific maintenance and is made to last for many years.


Data sheet
Compositions

High quality pewter (97% pure)

Styles

Elven, Pagan, gothic

Hauteur

10 cm

Largeur

5 cm

Length of the chain

Adjustable

Gemstone

Rainbow moonstone
No reviews at this time.
Pentagram necklace "Yules's Moon"
(

49

EUR

)
16 other products in the same category: