Elven pendulum necklace with rose quartz
This pendulum necklace combines the delicacy of the elven style and the tenderness of the rose quartz, symbol of unconditional love. To adjust this pendant perfectly to your needs, you can choose the length of the chain via the drop down menu.
- High quality pewter pur at 97% (hypoallergenic)
- Natural rose quartz and rainbow moonstone
- Totally handmade
- Stainless steel chain (hypoallergenic)
- Size of the pendant: 10,3 x 3,3 cm
Secured payment
Bank card - Amazon Pay - Bank transfer
Shipping with tracking number from 2,50 euros
*Available only on jewelry for Canada, USA and Europe, not available for retailers
Satisfaction guaranteed
If you don't like your item, you have 14 days to return it to us (see conditions)
Handmade creation

Elven pendulum necklace with rose quartz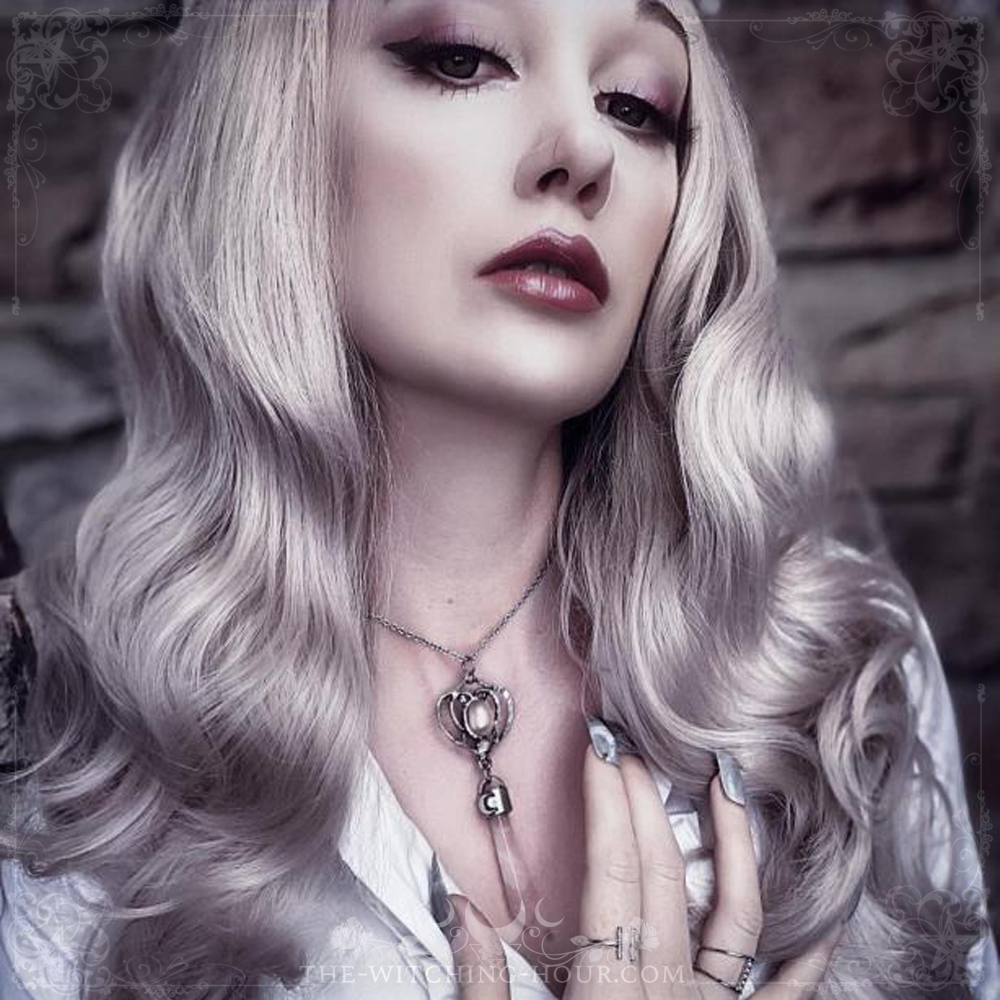 This pendulum necklace is an original creation of The Witching Hour
It is totally handmade with high quality pewter (97% pure), in our small french studio.
The elven motif is made from high quality pewter (pure at 97%) and the necklace is adorned with natural gemstones, this is why their color and details can be slightly different.
This necklace will be delivered with a beautiful purple velvet pouch to keep it safe or simply to give to your loved ones!
This necklace can't be used for divination or dowsing, it is named this way because of its shape and because of the pendulum stone that is hanging from the elven motif. But it will be perfect for every gemstones lover or to adorn your favorite clothes!

Rose quartz and rainbow moonstone
Rose quartz helps to open the heart chakra, which has the effect of stimulating feelings of unconditional love, peace, harmony with those around you and affection. This stone tends to increase empathy and sensitivity, but in a gentle and calming way.
A calming stone, it helps to lighten the heart of sadness, heal emotional wounds and learn self-love.
The rainbow moonstone helps to cleanse the parapsychic abilities of environmental and emotional clutter, while introducing a frequency of joy into our energy field. It repels negativity before it has time to reach us and is particularly effective for work on the intuitive plane.
Its properties are quite similar to those of moonstone, however its vibrations are more intense than most other varieties, so that the effects it produces are felt more strongly. In addition, rainbow moonstone helps to cleanse the emotional body and facilitates the activation and alignment of all chakras.

Our quality policy
We only use high quality pewter to create the jewelry of our brand. This pewter is pure at 97% and in accordance with European standards (lead, nickel, cadmium, mercury and antimony free).
The chain is in stainless steel and titanium jumprings. All these metals are hypoallergenic.
The pewter alloy we use is the finest, its purity allows it to be used to make dishes. It does not require any specific maintenance and is made to last.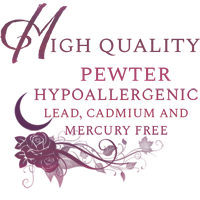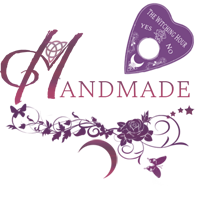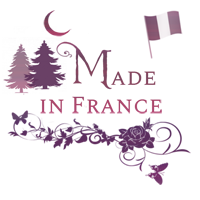 Data sheet
Compositions

Fine pewter, Stainless steel, Natural gemstones, Swarovski crystal

Styles

Pagan, Elven, Esoteric, Bohemian

Hauteur

10,3 cm

Largeur

3,3 cm

Gemstone

Rose quartz, Rainbow moostone
Average votes

5.0 / 5

1 advices

Why review our products?

You help other people in their purchases by sharing your experience and you let us know if you like your items!
Absolutely beautiful
Absolutely beautiful in person! I've received so many compliments already! Thank you for my new beautiful necklace!
This review has been posted for
Elven pendulum necklace with rose quartz
Elven pendulum necklace with rose quartz
(

42

EUR

)
5.0

/

5

-

1

ratings -

1

advices
16 other products in the same category: