Pentagram and raven skull pendant "Orestëan's Secret"
This pentagram pendant adorned with a raven skull, feathers and a moon crescent evokes the mystery of the universe and the cycles of life and death.The pentagram symbolizing the nature elements (water, earth, air, fire) linked to the spirit in the immensity of the universe, invites you, through this pendant, to see beyond the physical domain and its appearances.
-Fine pewter pure at 97% (hypoallergenic)
-Handmade
-Several natural gemstones are available via the drop down menu
-Stainless steel chain of 46 cm / 17" (hypoallergenic)
-Size of the pendant: 5,2 x 3,2 cm
Secured payment
Bank card - Amazon Pay - Bank transfer
Orders shipped within 72h
Shipping with tracking number from 2,50 euros
*Available only on jewelry for Canada, USA and Europe, not available for retailers
Handmade creation

Pentagram and raven skull pendant
"Orestëan's Secret"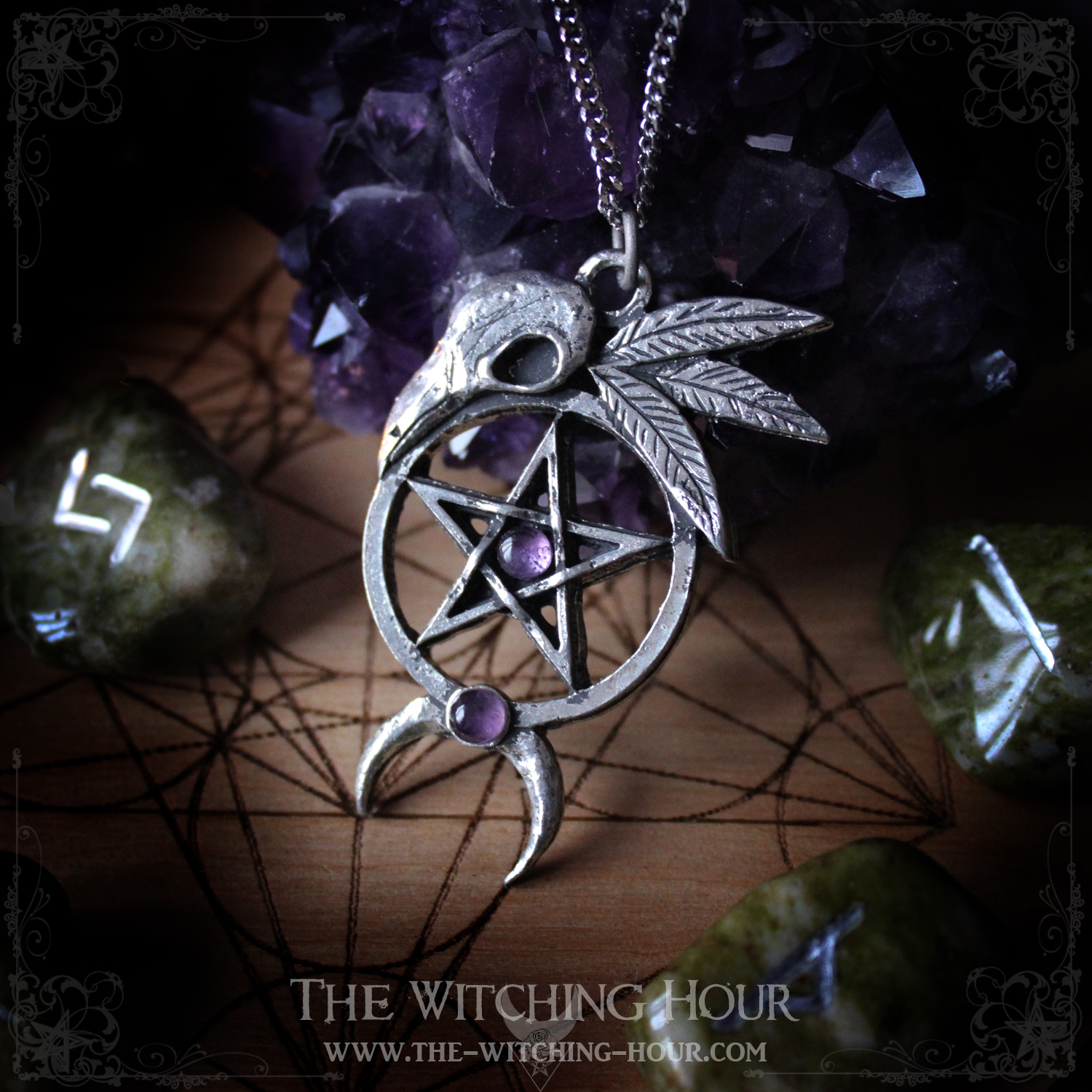 This pentagram pendant is an original creation of The Witching Hour
It was designed and handmade from high quality materials, in our small french studio.
The stones are naturals, so their color and details can be slightly different.
This pendant will be delivered with a beautiful purple velvet pouch to keep it safe or simply to give it to your loved ones!

How to choose your stone
Amethyst is a stone of spiritual protection and purification. It acts on the crown chakra and the third eye, and favours meditation. Because of its purifying properties, it is very useful to help create an energetic shield that will protect you from the surrounding negativity.
Amethyst stimulates intuition, favours visions and dreams, and is therefore recommended for divination and oniromancy, but also for working to increase extrasensory abilities, and in particular clairvoyance.
On a psychological level, amethyst helps to calm nervousness and to stay focused.
Garnet is an energising stone that purifies the chakras and revitalises them, while promoting the rise of the kundalini. This stone inspires love and passion, due to its red colour, while balancing sexual desire. Garnet is also considered a stone of commitment.
Emotionally, garnet gives mental strength, sharpens the mind and allows one to see difficulties more as challenges. This stone also has the effect of reinforcing the properties of other crystals.
Seraphinite is a stone of spiritual understanding. It opens the crown chakra, helping to develop extrasensory abilities and to awaken to spirituality.

The symbolism of the pentacle
A pentacle, or pentagram, is a five-pointed star surrounded by a circle. This symbol represents the union of the spirit with the elements (water, earth, air and fire) in the great whole of the universe symbolised by the circle. When the star is turned upwards, as it is here, it is considered that the spirit is turned towards the sky, and therefore, symbolically, towards spirituality.
Very present in paganism, the pentacle is often considered as a symbol of protection.

Our quality policy
We only use high quality pewter to create the jewelry of our brand. This pewter is pure at 97% and in accordance with European standards (lead, nickel, cadmium, mercury and antimony free). The chain is in stainless steel and titanium jumprings.
All these metals are hypoallergenic.
The pewter alloy we use is the finest, its purity allows it to be used to make dishes. It does not require any specific maintenance and is made to last.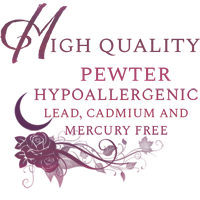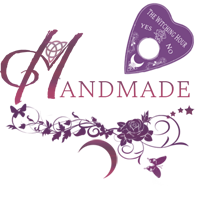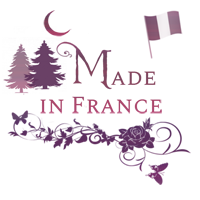 Data sheet
Compositions

Fine pewter, Stainless steel, Natural gemstones

Styles

Pagan, Gothic, Esoteric

Hauteur

5,2 cm

Largeur

3,2 cm

Gemstone

Amethyst, Red garnet, Seraphinite, Green aventurine
Average votes

5.0 / 5

4 advices

Why review our products?

You help other people in their purchases by sharing your experience and you let us know if you like your items!
Pentagram and raven skull pendant "Orestëan's Secret"
(

40

EUR

)
5.0

/

5

-

4

ratings -

4

advices
16 other products in the same category: