Sigil of Lilith and triple moon necklace "Night Goddess"
This necklace is adorned with the sigil of Lilith, goddess who symbolizes the night and the feminity. The sigil is surrounded with a triple moon, with roses and a rainbow moonstone cabochon.
- High quality pewter, 97% pure and hypoallergenic
- Totally handmade
- Natural rainbow moonstone and authentic swarovski crystals
- Adjustable stainless steel chain
- Size: 6,5 x 3,1 cm
Secured payment
Bank card - Amazon Pay - Bank transfer
Shipping with tracking number from 2,50 euros
*Available only on jewelry for Canada, USA and Europe, not available for retailers
Satisfaction guaranteed
If you don't like your item, you have 14 days to return it to us (see conditions)
Handmade creation

Sigil of Lilith necklace
"Night goddess"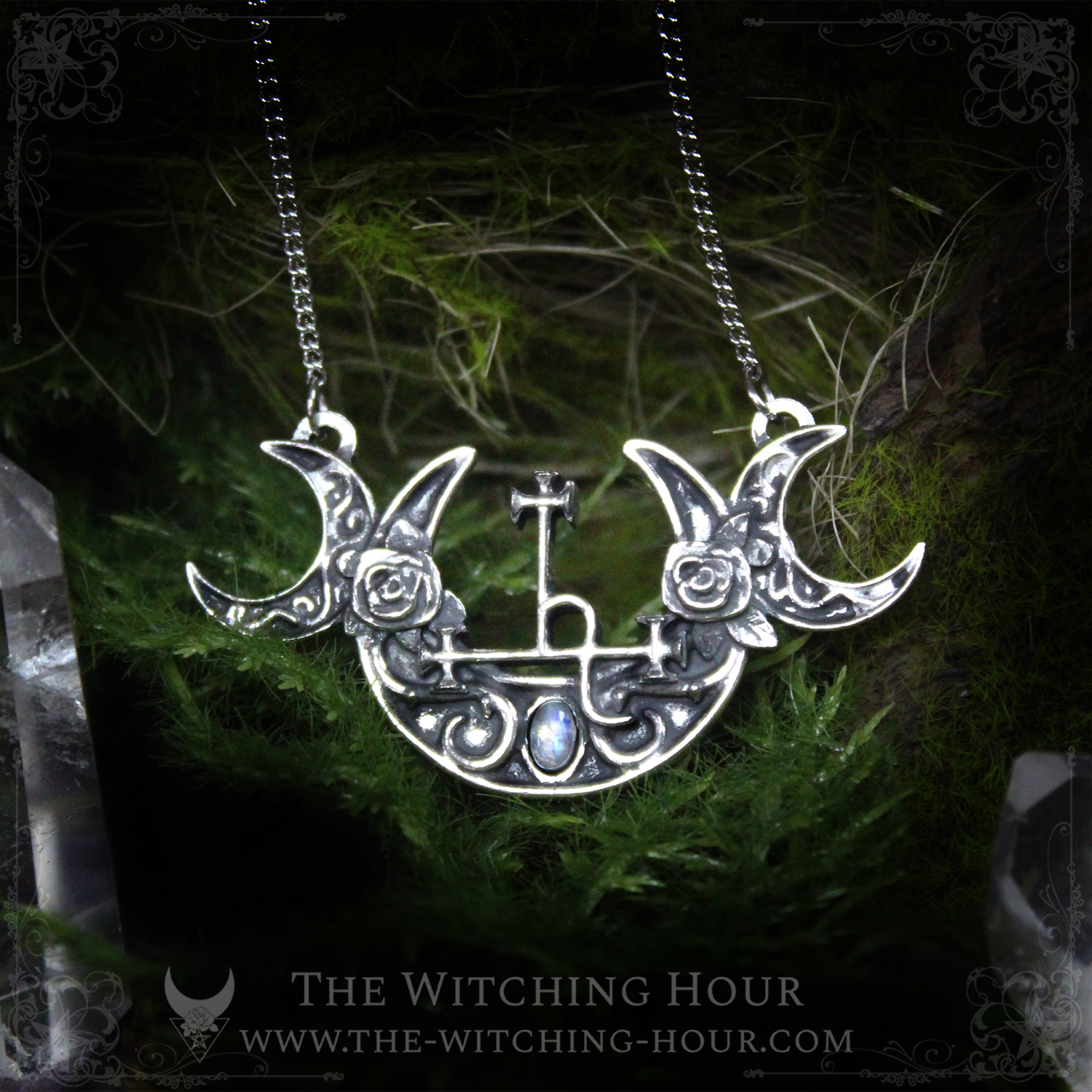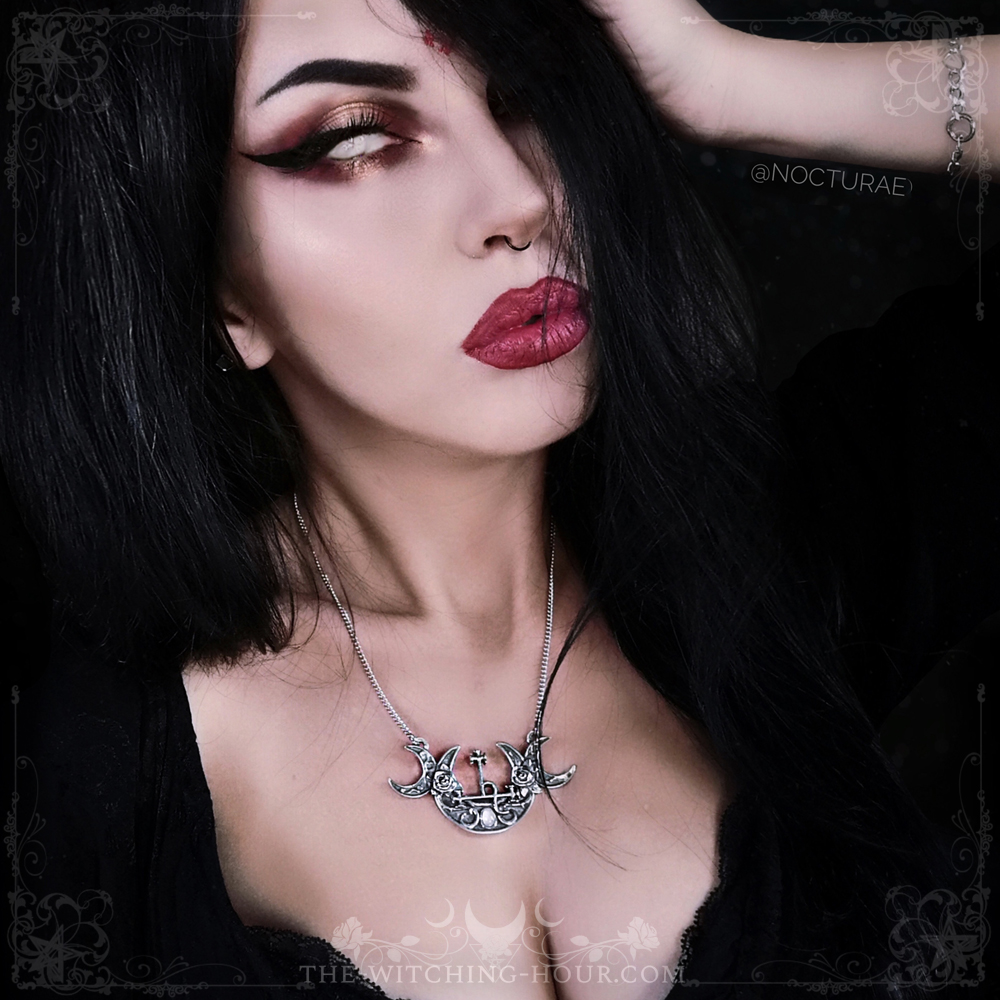 This necklace is an original creation of The Witching Hour
It was designed and totally handmade in our small french studio
The gemstones are natural, so their color and details can be slighty different.

About rainbow moonstone
Rainbow moonstone is a white labradorite with bluish or multicoloured reflections. As protective and spiritual stone, it helps to work on extrasensory abilities, especially perceptiveness and intuition. Because of its colour, it is strongly connected to the moon and spirituality.

About Lilith
Lilith is a symbol of femininity, beauty, freedom, rebellion, strength and courage. She is the liberator of the women, encouraging them to be strong and to fight for their rights. Lilith is also known to help during the childbirthes and all which concerns the femininity.
She is associated to the night and to the moon, to the water, to the rose, to the snake, to big cats, and more particularly to the cat, to the owl and to the hyena.
In the tarot, she is symbolized by the Empress and the High Priestess.
She is often associated with Ishtar/Inanna, with Isis, or with Kitra for vampyres. In the Luciferian Wicca, she embodies the goddess, the symbol of the feminine energy of the universe (associated with the God, Lucifer, the symbol of the male energy).

Our quality policy
All our creations are made of high quality pewter, 97% pure and corresponding to European standards (lead, nickel, mercury, cadmium and antimony free). The chain is made of stainless steel and the rings are made of titanium. All these metals are hypoallergenic.
The pewter alloy we use is the finest tin alloy available, its purity allows it to be used in the manufacture of crockery. This pewter alloy does not require any specific maintenance and is made to last for many years.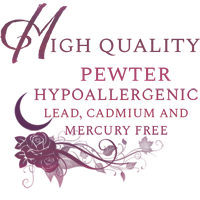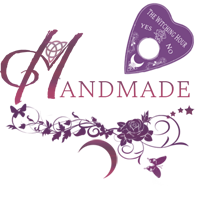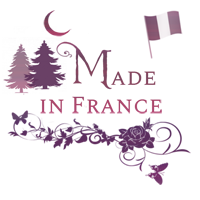 Data sheet
Compositions

High quality pewter (97% pure)

Styles

Pagan, Esoteric, Elven, Gothic

Hauteur

3,1 cm

Largeur

6,5 cm

Length of the chain

Adjustable

Gemstone

Rainbow moonstone

How to take care of your jewelry

Avoid wetting it regularly to not alter the grey patina. Remove it for exercise and sleep.
Average votes

5.0 / 5

2 advices

Why review our products?

You help other people in their purchases by sharing your experience and you let us know if you like your items!
Absolutely in love
Absolutely In love with my new necklaces from The Witching Hour!! ???????? They arrived faster than I expected and very safely packaged! I will definitely be indulging in more goodies from this amazing artist! Thank you so much!!!
This review has been posted for
Sigil of Lilith and triple moon necklace "Night Goddess"
verified_user
Verified Purchase
incroyable
comme toujours, rapide dans les expeditions, et quelle pièce! J'adore les créations de cette boutique , j'en ai vraiment une collection et quand j'ai vu ce collier j'ai craqué.il est juste magnifique et les finitions sont top, en plus c'est de la qualité on le voit tout de suite. Les colliers que j'ai de chez the witching hour je les garde même sous la douche et rien ne bouge, ils sont top et j'ai toujours des compliments .Je recommande mais a mille pour cent, avec un petit plus sur les colliers pendules qui sont top et bien équilibré avec le bon choix d'association de pierres.
This review has been posted for
Sigil of Lilith and triple moon necklace "Night Goddess"
This customer has posted a review for his order of 2020-11-04.
Sigil of Lilith and triple moon necklace "Night Goddess"
(

39

EUR

)
5.0

/

5

-

2

ratings -

2

advices
9 other products in the same category: