Tree of life pendant "Yggdrasil Mysteries"
This pendant represents Yggdrasil, the world tree of the nothern mythology. Here, it is surrounded with runes, with a moon crescent as the symbol of the world of Gods, and with a crow skull, as the symbol of the world of the dead.
- High quality pewter, 97% pure and hypoallergenic
- Natural gemstones that you can choose via the drop-down menu
- Handmade
- Stainless steel chain of 46 cm (hypoallergenic)
- Size of the pendant: 5,5 x 4,6 cm
Secured payment
Orders shipped within 72h, shipping cost starts at 3.50 euros

Handmade creation
Free shipping on orders over 150 euros
*Except for retailers

Tree of life pendant
"Yggdrasil Mysteries"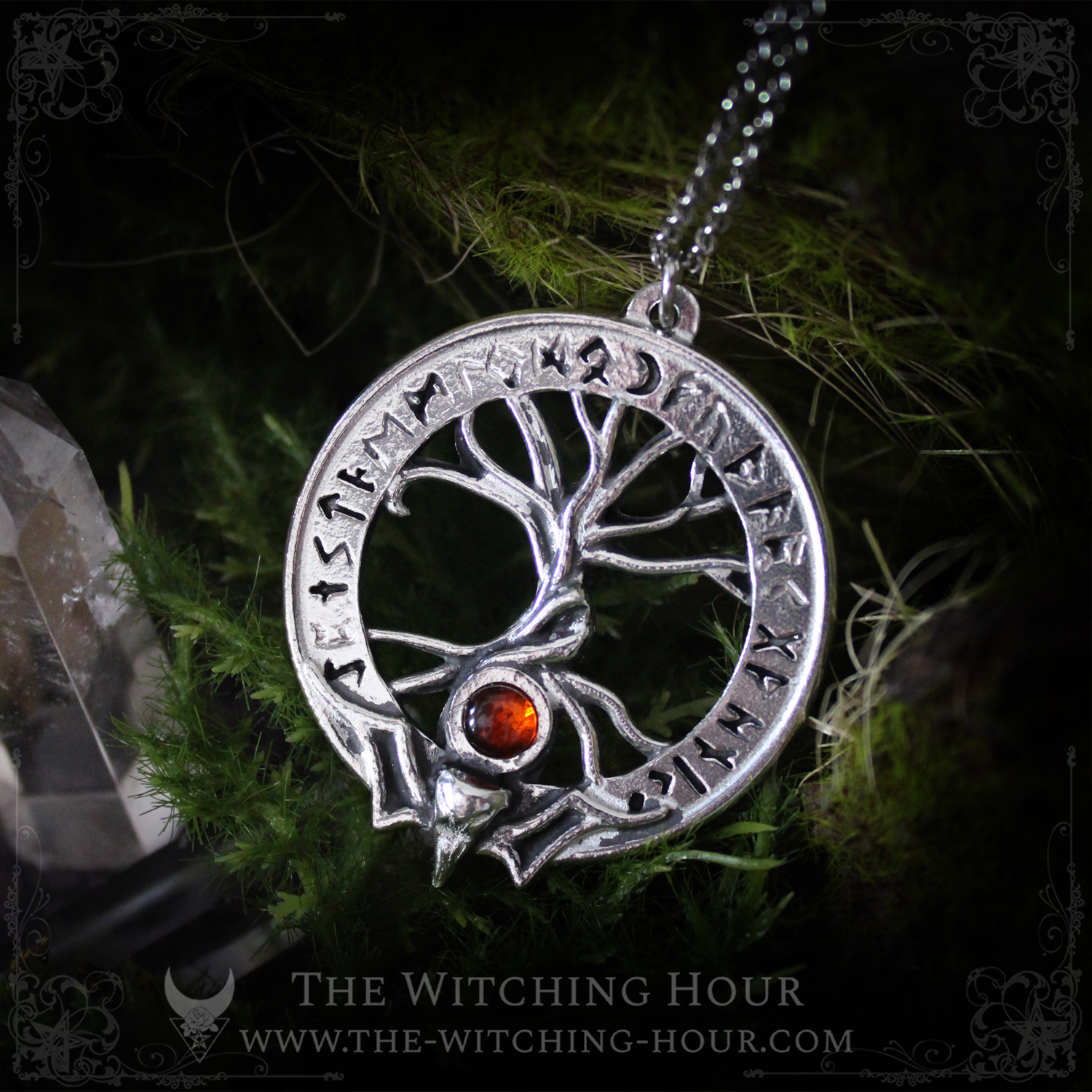 This pendant is an original creation of The Withing Hour
It is totally handmade from high quality materials in our small french studio
The gemstones are natural, so their color and details can be slightly different.
Like all the jewelry of our brand, this pendant will be delivered in a beautiful purple velvet pouch.

The soul of this pendant
This pendant is a personal version of Yggdrasil, the center of the world, a symbol of the univers in the Scandinavian mythology. The world of Gods is represented by a moon crescent, in reference to the sky, to the spirituality and to the knowledge of the secrets of the universe. The world of the human beings is under the branches of the tree, beside the trunk and the gemstone you will choose to wear. The third level, the world of the dead, is represented by a crow skull, which make also a reference to the companions of Odin, Hugin and Munin, who accompanied him in the knowledge of runes.

Our quality policy
We only use high quality pewter to create the jewelry of our brand. This pewter is pure at 97% and in accordance with European standards (lead, nickel, cadmium, mercury and antimony free). The chain is in stainless steel. 
All these metals are hypoallergenic.
The pewter alloy we use is the finest, its purity allows it to be used to make dishes. It does not require any specific maintenance and is made to last.


Data sheet
Compositions

Fine pewter, natural gemstone, Stainless steel

Styles

Pagan, Viking, Gothic

Hauteur

5,5

Largeur

4,6

Length of the chain

46 or 60 cm

How to take care of your jewelry

Avoid wetting it regularly to not alter the grey patina. Remove it for exercise and sleep.
No reviews at this time.
Tree of life pendant "Yggdrasil Mysteries"
(

42

EUR

)
5 other products in the same category: