Amethyst point and pentagram pendant
This natural amethyst point pendant is surmounted with a support adorned with a pentagram. The pentagram is a pagan protective symbol representing the union between the spirit and the natural elements (water, air, earth and fire). The amethyst is a spiritual stone supposed to help improving the psychic abilities.
- High quality pewter, pur at 97% and hypoallergenic
- Natural amethyst
- Stainless steel chain of 46 or 60 cm (hypoallergenic)
- Size of the pendant: 6 x 1,2 cm
Secured payment
Bank card - Amazon Pay - Bank transfer
Shipping with tracking number from 2,50 euros
*Available only on jewelry for Canada, USA and Europe, not available for retailers
Satisfaction guaranteed
If you don't like your item, you have 14 days to return it to us (see conditions)
Handmade creation

Pentagram pendant with amethyst point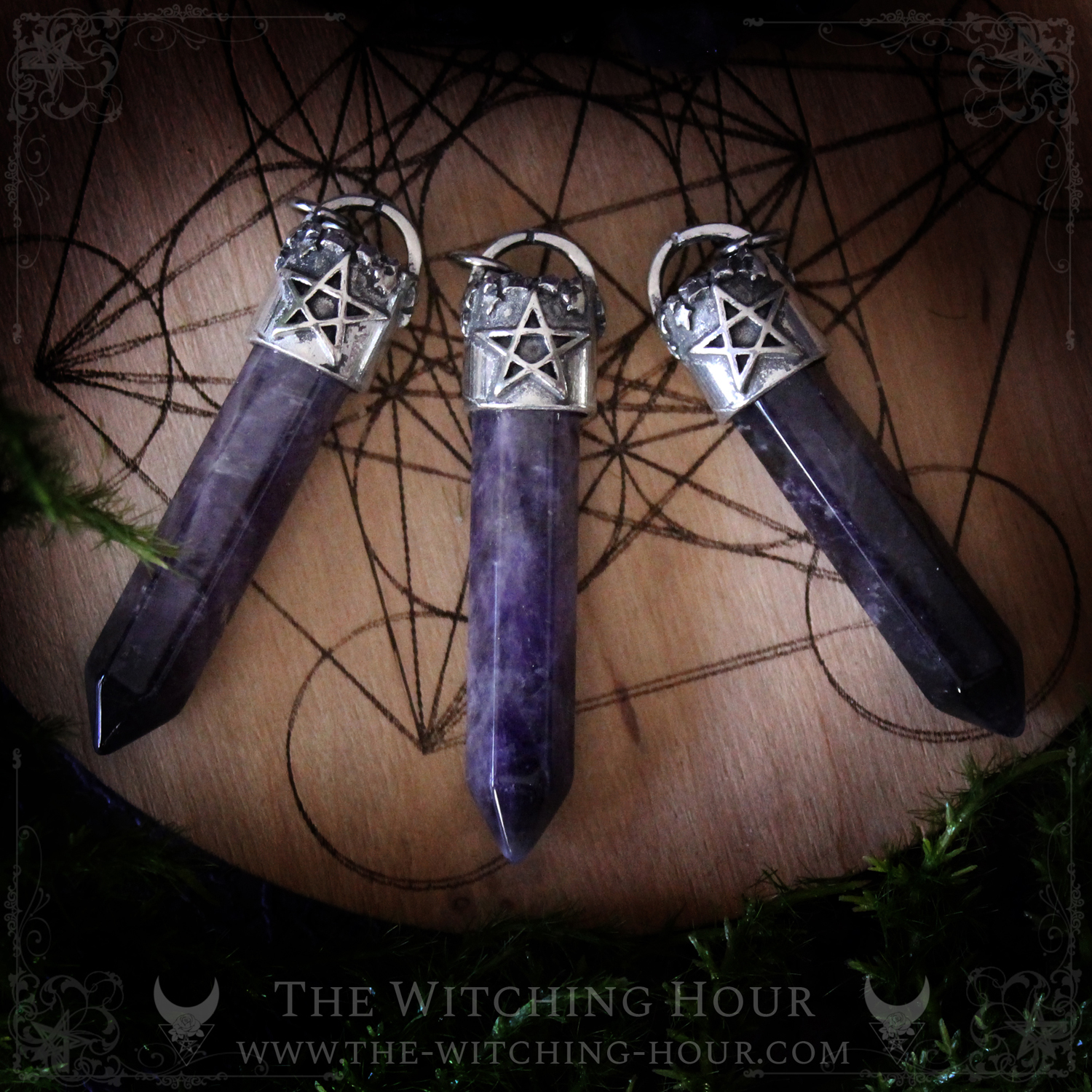 This pendant is an original creation of The Witching Hour
It is totally handmade in our small french studio
The gemstones are natural, so their color and details can be slightly different.

The pentagram meaning
The pentagram is a five points star representing the union of the spirit to the elements (water, earth, air and fire) in the univers (represented by the circle). This ancient symbol has always been considered as good and protective.

Amethyst in lithotherapy
Amethyst is a stone of spiritual protection and purification. It acts on the crown chakra and the third eye, and favours meditation. Because of its purifying properties, it is very useful to help create an energetic shield that will protect you from the surrounding negativity.
Amethyst stimulates intuition, favours visions and dreams, and is therefore recommended for divination and oniromancy, but also for working to increase psychic abilities, and in particular clairvoyance. On a psychological level, amethyst helps to calm nervousness, as well as to stay focused.

Our quality policy
We only use high quality pewter to create the jewelry of our brand. This pewter is pure at 97% and in accordance with European standards (lead, nickel, cadmium, mercury and antimony free). The chain is in stainless steel and titanium jumprings.
All these metals are hypoallergenic.
The pewter alloy we use is the finest, its purity allows it to be used to make dishes. It does not require any specific maintenance and is made to last.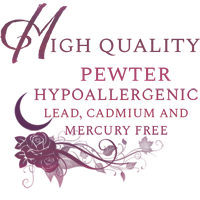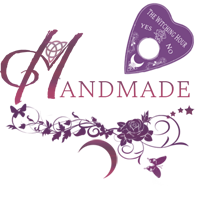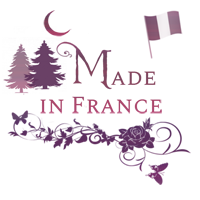 Data sheet
Compositions

Fine Pewter, Stainless steel, Amethyst

Styles

Pagan, Esoteric, Gothic

Hauteur

6 cm

Largeur

1,2 cm

Gemstone

Natural amethyst

How to take care of your jewelry

Avoid wetting it regularly to not alter the grey patina. Remove it for exercise and sleep.
No reviews at this time.
Amethyst point and pentagram pendant
(

35

EUR

)
16 other products in the same category: