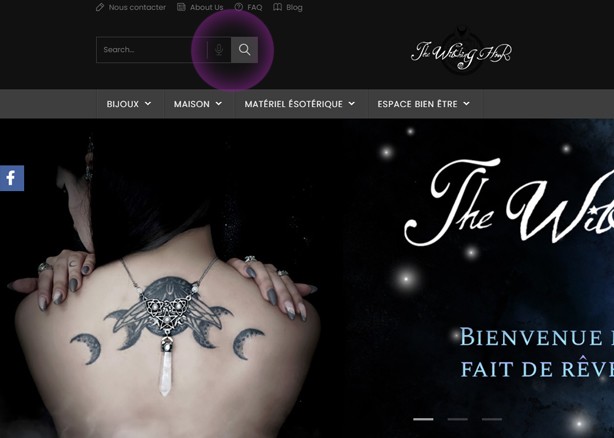 The old design of our online store was quite nice, but we had a lot of little bugs and some features didn't work anymore, like the wishlist or the stock alerts by email, which was annoying. After spending several months trying in vain to make these features compatible with our graphic theme, I finally decided to completely redesign our theme.
Return of the wishlist and the back in stock alert by email
So, these two features are available again on this new graphic theme. We unfortunately couldn't keep your old wishlist, and we're really sorry you have to redo it, but at least you can keep all your favorite items in your customer account again so you can easily find them for your next orders.
And when an item is out of stock, you can once again request to be alerted by email when it is available again!
Additional features
With this new theme, you also have some small features added, such as voice search.
By clicking on the small microphone in the search bar, you will be able to use the microphone of your phone or computer to say any keyword that will allow you to search for a product on our online store.

Dans la partie supérieure du site, vous trouverez désormais un petit menu contenant notamment un FAQ, notre page "À propos" et le lien vers notre blog.

At the top right of our homepage, you can find the language setting, your customer account, the comparison tool, your wishlist and the cart.
On the product cards you can now find small logos allowing you to easily add products to your wishlist or to the comparison tool. The short descriptions are still the same as before, and you will find the usual tabs on the bottom of the product page.
A blog area on the home page
The store now has a small blog area on the home page where you can find all our news, the markets where we exhibit, as well as the backstage of our workshop! I invite you to have a look at this space regularly, or to follow us on social networks to not miss anything of our news.
An Instagram area
Speaking of social networks, you can also see our latest Instagram posts directly on the store's homepage.
And that's it, I've done the rounds of the new features in the online store! It was quite a lot of work to get everything in place, but I think it was worth it.
I hope you'll like all the improvements we've made! Don't hesitate to give us your opinion on the subject, we are always open to your suggestions!